Do Deer Eat Delphinium? (Answered in Detail!)
Depending on the area of the country they live in, many homeowners find deer to be the main threat to their gardens.
When they're starving, these gorgeous animals will eat almost anything and they often see the garden plants as a particularly delicious treat.
However, there are plants deer are more likely to feast on and those they look to avoid.
Below, I'll investigate do deer eat delphinium and to which of these two groups this plant belongs to.
Delphinium reaches an impressive height and stands out in the garden due to its spikes tightly packed with beautiful and oddly-shaped flowers.
Therefore, besides making the garden more beautiful, they also attract all sorts of wildlife.
Delphinium definitely draws a lot of attention and I'll explain if deer also find it so attractive and delicious.
So, let's dive in!
Do Deer Eat Delphinium?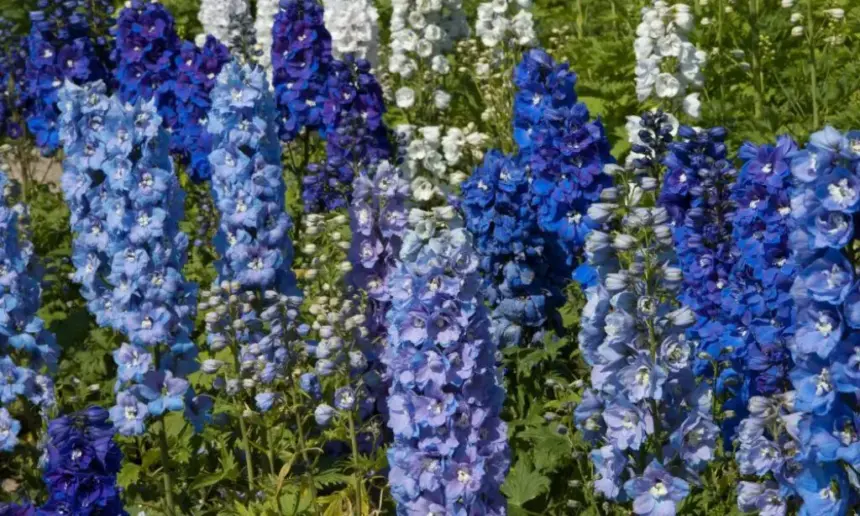 In general, deer won't eat delphinium and this plant belongs to one of the most deer-resistant species.
The main things that deter deer when it comes to this plant are delphinium's toxicity, taste, and smell.
When they have a choice, these animals will mostly focus on leaves of other plants or grass, which are much easier for them to digest and don't pose danger to their health.
Delphinium is known for its toxicity, and ingestion of any of its parts in larger quantities can cause issues for any animal or human, and the deer are no different.
Plus, as deer have a fairly small digestion system, the strength and odd shape of the delphinium plants can also cause them a lot of discomforts.
Below is a short overview of the most popular species of delphinium and what causes deer to stay away from them.
Blue Diamond Delphinium
Blue diamond delphinium is one of the most beautiful plants you can grow in your garden, but also one that's highly toxic, especially when it comes to younger plants.
Deer that consume this delphinium species are very likely to have some digestive issues and skin-related problems, such as serious skin irritation.
That's why they mostly look to avoid this plant.
Blue Mirror Delphinium
If you grow blue mirror delphinium, you most likely won't have to worry about the possibility of deer and other animals, such as rabbits feasting on your plant.
The main reason is that blue mirror delphinium is relatively small and thorny which is why most animals won't enjoy eating it.
Aurora Lavender Delphinium
Another popular delphinium species that is pretty much deer-resistant is aurora lavender delphinium.
One of the main reasons people grow this plant is its strong fragrance, which is exactly the thing that deters deer and similar animals when looking for a delicious snack.
Protecting Your Delphinium from Deer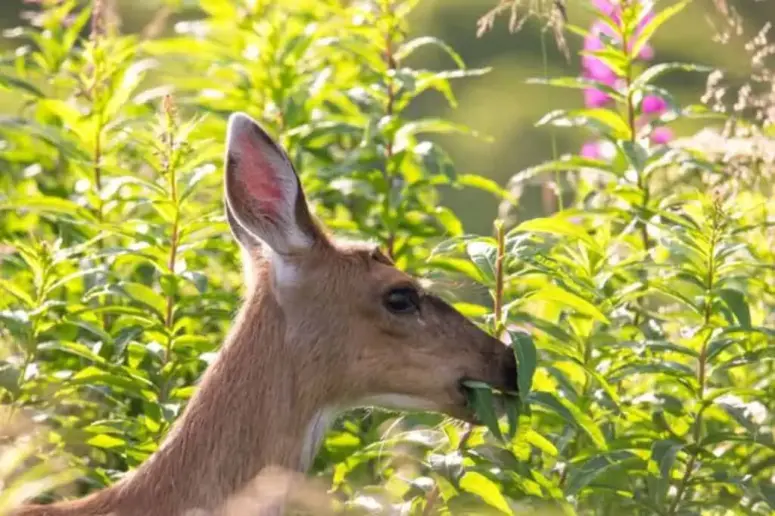 Having said all this, if a deer is starving and can't find any other food, it will devour the delphinium, no matter the consequences.
So, it's still necessary to take certain precautions and protect your delphinium from the deer.
Below are a few tips that can help you keep these animals away and ensure that your delphinium is safe.
Anti-Deer Repellents
Sale
Concentrated Deer Repellent - Bobbex | Deer, Elk, and Moose Deterrent...
LONG-LASTING - Bobbex Deer Repellent is proven to be the most effective long-lasting spray on the market. Once applied,...
NATURAL INGREDIENTS - Bobbex is environmentally friendly, using only natural ingredients that stop deer browsing by...
EASY TO APPLY - Apply the spray directly on the surface of foliage to repel deer. This product is a concentrate, so it...
HARMLESS TO WILDLIFE - When used as directed this liquid deterrent is environmentally compatible and harmless to all...
SAFE FOR USE ON MOST PLANTS - When used as directed his ready-to-use formula can be directly applied to ornamentals and...
Last update on 2023-09-23 at 13:50 / Affiliate links / Images from Amazon Product Advertising API
The most efficient way to keep deer away from your garden and precious delphinium is to use deer-resistant repellents.
Using the anti-deer spray will provide instant results and deter deer from even coming close to your garden.
There are various kinds and brands of anti-deer spray, so it's best to ask for advice at your local garden store or wherever you buy the repellent.
To work with the most efficiency, the repellent should be evenly sprayed across the garden.
While doing this, remember to protect yourself and use a facemask and gloves, as anti-deer repellents may contain some dangerous chemicals.
Natural Repellents
If you want to avoid using chemicals in your garden, you can make your own DIY organic anti-deer repellent.
As deer hate strong smells and are deterred by them, it's best that you use onion and garlic, and mix them up with vinegar and hot water to create an efficient repellent spray.
The pungent smell will not only deter deer but will likely work on keeping away most of the other pests, too.
Noises
Sale
Broox 2024 Upgraded Solar Animal Repellent, Cat Repellent, Deer Repellent,...
Do you have problem with unwanted animals in your area, garden, farm? Are they destroying your garden or eating the...
Repel animals in a humane way: Broox squirrel repellent, repels animals by emitting ultrasonic sound, alarm and LED...
Solar Powered and Waterproof (normal rain): With a solar panel on the top of the device, it can be charged by solar...
Human Design: Cat Repellent only repels animals without any chemicals or harms. it only emits 13.5kHz-45.5kHz ultrasonic...
Easy to Install, widely used and Wide infrared sensor range: Simply take it out of the box, charge it with the USB cord,...
Last update on 2023-09-23 at 13:50 / Affiliate links / Images from Amazon Product Advertising API
Another way to keep the deer away from your delphinium is to simply scare them.
Deer hate loud and aggressive noises and are very likely to avoid the area those noises are coming from. There are many ways to create noise that should scare the deer away.
You can make the noise yourself, using musical instruments or pots and pans, but that's not very efficient as you can't do it constantly.
A much better idea is to purchase an ultrasonic animal repellent or similar device that will create the sounds that should drive the deer and other pests away, but maintain the peace and tranquility in your garden.
Building a Fence
Sale
Feitore Deer Fence Netting, 7 x 100 Feet Anti Bird Deer Protection Net Reusable...
❤ Size: Deer Netting and Fencing size 7 feet x 100 feet(2.1 x 30M); Garden netting mesh size 3/4"(1.9cm); Color:...
❤ Durable & Reusable: Tough deer fence barrier netting is made from durable polypropylene(PP), lightweight yet heavy...
❤ Safe & Economical: The 3/4 inch square mesh design of our deer fencing provides maximum protection for your garden...
❤ Easy to Install: Easy to use roll of anti bird deer protection netting, simply attach to stakes or posts(not...
❤ Enjoy Your Fruits: Don't let birds, deer, dogs or other animals ruin your harvest and feast on your produce before...
Last update on 2023-09-23 at 13:50 / Affiliate links / Images from Amazon Product Advertising API
You can also physically prevent deer from getting close to your delphinium by creating a fence around your garden.
Building a fence may take some effort and time, but it's a very efficient and humane way of protecting your garden.
Plus, it will keep other animals away from your plants and protect all the greenery within the fence perimeter.
You can build your own fence, or purchase one of the products that are ready-made for these purposes.
Commonly, deer fences are made of plastic, with tensile reinforcements, and can last for years.
Conclusion
As you can see, if you grow delphinium, you shouldn't be too concerned about deer feasting on your plants.
Delphinium is one of the most deer-resistant plants, and these animals typically avoid eating it.
The main reason is that delphinium is toxic for deer and can cause severe issues with their digestion systems, as well as lead to skin irritation.
However, be aware that in extreme conditions, when they have nothing else to eat, they will still try to eat delphinium even though it may be bad for them.
So, it's not a bad idea to have some sort of anti-deer protection, such as chemical or natural repellents or a fence around the garden.